MJPM is your bullion silver coin dealer for buying and selling American Silver Eagles (ASE), Canadian Silver Maple Leaf, 1 oz. Silver Rounds, 1 oz., 10 oz., and 100 oz. .999 Fine Silver Bars, 90% Silver coin rolls and bags along with other popular legal tender silver coins and bars at nationally competitive prices. Selling? Check out our BUY SILVER PRICES. We are your silver buyer for Silver Eagles, Silver Maple Leaf, ASE Monster Box, Morgan Silver Dollars, Silver Rounds and all Pre-1964 U.S. 90% junk silver coins. Call us toll free 1-800-279-4337 to lock in your at the minute prices.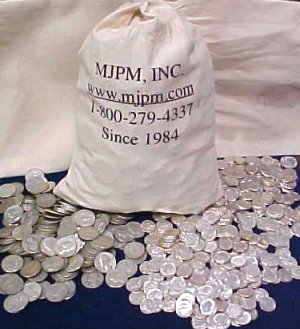 THE TIMING HAS NEVER BEEN BETTER FOR BUYING LEGAL TENDER U.S. 90% SILVER COINS
90% SILVER COIN - THE CAVIAR AND BEST BUY OF ALL CONSTITUTIONAL LEGAL TENDER SILVER PRODUCTS!
BUYING U.S. 90% PERCENT SILVER COIN MAKES GOOD SENSE CONSIDERING TODAY'S LOW PREMIUMS
PRICED AS LOW AS *** $8.37 *** OVER SPOT!
U.S. LEGAL TENDER 90% SILVER COIN (1964 and earlier dates) REMAINS THE BEST VALUE OF ALL SILVER PRODUCTS! TAKE ADVANTAGE - LOAD UP NOW!
THE CALCULATION FOR BUYING 90% SILVER COIN
Take the cost of a $1,000 face value bag and divide by 715 oz.(net .999 silver weight) equals your cost per ounce. For example: Take our 06/08/2022 cost of $21,860.00 divided by 715 oz's equals $30.57 per oz., with a silver price basis of $22.20
This is $8.37 cents per ounce over the spot price for *** LEGAL TENDER U.S. SILVER DIMES OR QUARTERS ***(with coin content and purity U.S.A. guaranteed).
WE BUY STERLING SILVER FLATWARE!
Visit our store in downtown Corvallis, Oregon or call for our cash offer. MJPM has been your trusted authority and cash buyer of sterling silver flatware since 1985.
DID YOU KNOW
MJPM is well known for selling the best 90% silver coin bags in the industry. We remove the damaged, and mutilated coins that are common place in our competition's 90% junk silver products. We want your business! Our best customer is a satisfied customer knowing they bought the best available bullion products who uses competitive and responsible market pricing. Here at MJPM - you can count on it. We sincerely appreciate your business.
MJPM...your trusted and recognized Silver Bullion Coin Dealer throughout America and our home in Oregon for Buying and Selling U.S. 90% Junk Silver Coins, one ounce Silver Rounds, 10 ounce Silver Bars, and 100 ounce Bars since 1985.