If you like our buy and discount sell prices for gold, silver, platinum and palladium coins, bars and precious metals, MJPM buys and sells rare coin, silver dollars, currency, U.S. and Foreign gold coin and ancient coins. Check out our listings. MJPM.com your rare coin and currency buyer and seller dealer!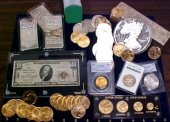 If you have collectible coins or paper money to sell please call us at 1-800-279-4337 for current prices and our fast check!

Visit our MJPM.com Coin and Currency directory where you can purchase better quality collectible U.S. Silver Dollars, Carson City silver dollars, collector coins, Foreign and Ancient coins, and Paper Money (we love National Banknotes!) all at nationally competitive prices!

If you are looking to BUY or SELL gold, silver, platinum or palladium coins and bars, MJPM offers extremely competitive prices on American Buffalo gold coins, American Eagle, Canadian Maple Leaf, Austrian Philharmonic, South Africa Krugerrand, China Panda Bear, and British Sovereign coins, in addition to the Suisse and Pamp .9999 fine Bars, Pre 1933 U.S. gold coins and Silver dollars!



MJPM pays top cash dollar for your scrap gold


Check out our cash for scrap gold chart and discover what your unwanted gold items are really worth. Chart prices are auto-updated every three minutes, determine the karat, i.e. 10k, 14k, of your items and multiply the weight (31.1 grams per troy oz.) times the chart price. Shop and compare, the motel-hotel and mall buyers are not even close to our cash buy prices for your scrap gold. A little knowledge is worth its weight in gold!



MJPM...your trusted dealer for buying and selling gold, silver, platinum and palladium coins, rounds, bars, bullion and precious metals trading since 1985!


MJPM...real prices and friendly people making a difference since 1985!